Do I Need a Permit?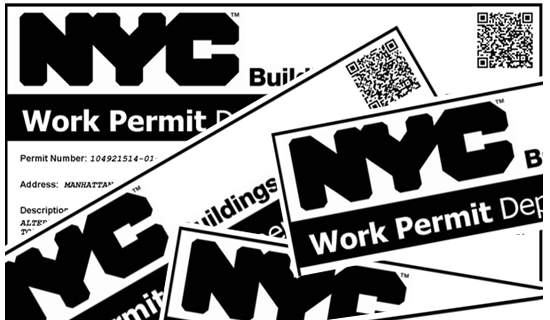 Renovating your apartment can be both personally and financially rewarding. But for anyone who has ever lived through a renovation, the process can run from frustrating to downright horrific and catastrophic. Before starting the job, let's run through the legal concerns.
Do I need a permit? Most construction and renovation jobs in New York City require a permit from the Department of Buildings. Only very minor alterations do not. Painting, plastering, installing new cabinets and resurfacing floors are examples of work that would not require a permit, but nearly everything else does. There are four types of permits in New York City:
New Building: this is for the construction of a new structure from the ground up
ALT1: this is a major alteration that will change the use, egress or occupancy of a unit. Combining two apartments into one, and removing one of the entrance doors, for example, would require this type of application.
ALT2: this is used when doing multiple types of work, but the work does not change use, egress or occupancy. For example, a project that involves electrical installation, plumbing, and movement of a load bearing wall, but which does not change the use (residential), egress (doors remain the same) or occupancy (number of persons permitted remains the same) would be an ALT2.
ALT3: this is for minor alteration involving only one type of work. Most renovation projects involve at least two types of work (construction and plumbing) and as such are usually ALT2. An example of an ALT3 would be a curb cut or a construction fence installation.
Who files for a permit? All permits except ALT3 must be filed by a licensed architect or engineer. Contractors often work with architects who "sign off" on plans that are submitted with permit applications.
What about the building? Apartment dwellers not only need to satisfy the NYC Department of Buildings, but also their building management. Well-run buildings carefully monitor renovations within the premises to ensure structural integrity, use of insured contractors, and the burden on non-renovating residents. Typical alteration agreements require the renovator to file for the permit, use licensed and insured contractors, and provide for penalties for work done during non-business hours. Be sure to check with your building before beginning any project.
Don't forget the signoff. The most common error renovators make is failing to get a letter of completion from NYC when the project is done. Naturally, contractors are eager to move on to new jobs and the homeowner is ready to enjoy the product of the renovation. But the Department of Buildings will leave the permit open indefinitely on the City's books and records if your contractor does not get a letter of completion certifying that the work was done "to code." When it comes time to sell, a careful buyer's attorney will see the "open permit" and insist that you as seller obtain the completion letter. This will require time and expense, having to track down the professionals who did the work and possibly having to schedule inspections with NYC. Be sure this is done before making the final payment to the contractor and you'll not have to worry about it when you sell.